Finding a great pair of jeans is a quest that challenges most women, not just moms, plus-size women, or any other way you want to slice up the female demographic. I find that my jeans collection is like a living, breathing entity: ever evolving, constantly being reevaluated for comfort, function, and style. Right now I have in my possession the following pairs:
Old Navy bootcut sweetheart rise, dark wash, size 14 L

Old Navy skinny high rise, dark wash, size 16 R (like these but with a high waist)

Banana Republic straight leg, dark wash, size 16 R

Old Navy skinny sweetheart rise, RED, size 14 R (kinda like these, but not as cute)

Z Cavaricci skinny mid-rise, antique wash (kind of a grey wash), size 16 R (similar to these)

Mossimo for Target bootcut, dark, size 18
You might notice that the sizes are all over the place, and that I have a pair of long inseams.The funny part: the BR jeans are a bit tight, and the Mossimo ones dig in at the waist. The ON 14s are snug when I first take them out of the dryer, but are almost too loose after a couple of hours! So, clearly sizing is not to be trusted.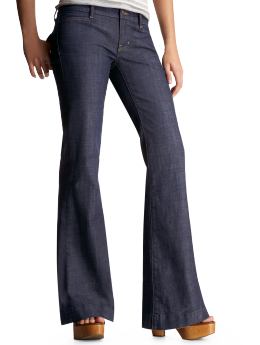 Further complicating things for me, my body shape changed dramatically after having a baby. I went from more or less an hourglass to something our good friends over at
Igigi
call a
Figure Eight 
which I take to mean I have a sorta-defined waist and my hips are mostly the same width from high hip to low. Which means my pants are always falling down. This is a problem when I take my little girl to the library story hour and have to lunge across the floor to prevent imminent injury by flying projectiles of various kinds, or when I have to stoop to pick things up that my daughter has removed from our grocery cart to the floor. I have come to appreciate the allure of
mom jeans
after a few dozen public hike-ups. Not that I am willing to go there, just, y'know, they seem to stay on and stuff.
Conventional wisdom says you should try on dozens of pairs until you find ones that fit. Well, that is a great thing to do if you have the time (and energy!), and also if you are fortunate to wear a size that is readily available in stores. Another option, if you can afford the initial price tag, is to order a bunch of styles online and try them all on at home. This works best if you order from a place that offers flat-rate shipping and has a bricks and mortar store where you can return the items that don't work (or work, but you can buy cheaper elsewhere, like
ebay
), or sites that offer free shipping both ways. 
One great site that offers free shipping both ways is
MyShape.com
. You have to create an account with them, which involves giving them your measurements (and we're talking wrist circumference, knee to floor length, you name it), but in exchange you get $15 off your first order with the code WELCOME15, the aforementioned free shipping, and customized shopping based on what they have in your size. I got the Z Cavs this way, which are my best fitting jeans. They also offera limited selection of Svoboda premium denim, which are difficult to find in stores; this is the only place I know of that sells them who also offers free shipping. If you have another source, please let me know!
Another decent possibility is to order from the
Old Navy/Gap/BR
mega machine, where you pay 7 bucks for all you can eat, er, buy. The only trouble you might run into in this case is that most of the plus-size items on ON's site say they are "return by mail only," which means you will be paying $6 for the return shipping. Boo. Gap and Banana items don't have this issue, but they only go up to 20 and 16, respectively. They do seem to have a semi-permanent "free shipping when you include an item from
Piperlime
" offer, so if you are in the market for some shoes, you can save this way. Some pairs that look promising include the
bell bottoms from Gap 
and the
classic rise boot-cut jeans
from Old Navy. Gap's
Curvy Boot Cuts
might work for those with a more defined waist, but I generally steer clear of anything in Old Navy's low rise jeans because I like to keep my butt inside my pants when possible.
Levi's
has a similar return policy to Old Navy and Gap, but the difference is you can return most items to a Levi's store. Just remember that this does not include the jeans section of a department store that sells Levi's, but a Levi's-only store. They offer a small selection of plus-size jeans. Anyone who is familiar with their styles, please comment on the quality and cut.
Sears
sells many of the plus Levi's, and is a great place to look for sales.
Anyone else have great jeans sources?